Ok, I screwed up big time on that kit, the red not even look nice, the paint job for the weapon also fading up, so since last night I've been stripping the spray color off, well at least before go for spray again.
Ok, here's the weapon after stripped & re-spray: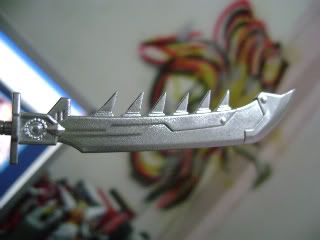 I'm using Bosny Chrome color spray, wow that's one dang amazing color indeed, almost like plate-silver color already now. Cheers~!
& this one is Sonken's. I spray a Bosny gold & added gundam marker plate-silver on it. Looks horrible now.
It doesn't shine anymore, plus not shiny like chrome one. Huh going to repaint that into chrome.=)
Since owing an airbrush + compressor abit out of budget, lucky found out that Bosny spray cans could do such amazing outcome. Great~!